With ineffable sadness for Dr. Ryan and all of Connor's family.

Thanks to George Julian for live-tweeting,
with her trademark precision and concision,
on the @LBInquest timeline.

***
14.22  We're back in after lunch with Kieran Dullaghan being questioned.
14.24  Paul Bowen asks KD how communication was made between staff members about changes to the care plan.  KD says staff would speak to each other about a significant change; changes to care plans wld be done in monthly update.  Usually changes made to care plan would be known about by staff, before the care plan was changed.  Generally speaking.
14.27  PB asks KD if he recognises this document [Health Action Plan], he does and says they're normally filled out by support workers.  Can see that the Health Action Plan was signed by Connor on 14/4/13. PB asks KD if he went thru the plan w Connor.  KD says Health Action Plan was completed by Lenka Mullerova, who was on nights with KD.  Series of questions: I have a vagal nerve stimulator [N]  I have an epilepsy care plan [Y]  I have an epilepsy risk assessment [Y]
14.30 Are you aware of there being an epilepsy care plan? KD: Yes, the document referred to before lunch.  Where will we find the epilepsy risk assessment? KD: That was ticked wrongly. The care plan WB did, in a sense became like a risk assessment.  'The problem was with Rio…so I think the risks were looked at in the actual care plan' KD.
14.32  PB: Are you aware of the NICE Epilepsy Guidelines for Ppl w LD? KD: Yes PB: Were you aware back in 2013 KD: Possibly.
14/35  NICE Guidelines projected to the jury; KD says they're referenced in Connor's care plan.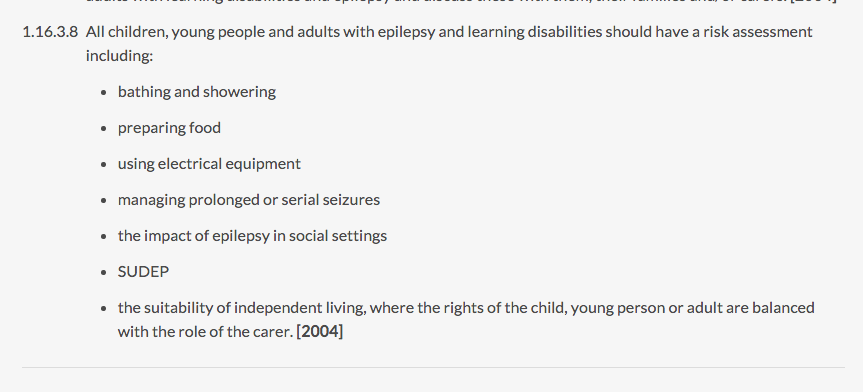 14.36  PB asks KD 'is it your evidence that there is an epilepsy risk assessment that addresses these matters?'
KD replies: No.
14.37  PB asks KD about tongue biting incident that took place on unit, his counsel tries to stop him answering, the Coroner rules he can answer.
14.38  PB asks KD what's the significance of a tongue bite? KD: It's evidence of a seizure.  KD states that he wasn't working when LB bit his tongue but 'the general consensus was that he hadn't had a seizure'.  LB was moved downstairs after the incident and bed monitors were ordered to help with observations.
14.42  KD confirms made Rio entry 24/5 added 'though he has recently started taking Risperidone which could interfere with his epilepsy medication'.  PB asks why he hadn't included the tongue biting incident, he replies it wasn't believed that it was a seizure.  PB asks 'had there been a meeting at which you'd been present that had taken place and decided it was not a seizure'?  KD doesn't know.
14.44  KD doesn't know whether there was a meeting but says Connor had already been seen by Dr Murphy [psychiatrist].  PB asks whether a conversation had taken place with @sarasiobhan about LB's tongue biting incident; KD knows there was an email trail.
14.46  Bed sensors were ordered, an EEG was ordered, LB was moved downstairs but KD says it was the 'general consensus' he hadn't had a seizure.   PB to KD: If LB had had a seizure would 15 min obs have been appropriate in the bath? KD: No PB: Why? KD: He wld have been at risk of drowning.
14.51  KD acknowledges PB statement that he can't find reference to a multi-disciplinary decision that it wasn't a seizure on Rio.
14.52  PB now reading KD's statement 'I was aware that my colleague Maxine had run a bath' for LB, asked KD how he knew.  KD says 'they'd all been in the office at that time' and he can't recall but he was aware Maxine left the office.
14.54  PB references statement of Lenka M which has been read [says bath was at 08:30] but she is not available to give evidence.  KD says he doesn't think it was 08:30. PB questions the locking mechanism on the door and was it locked, KD doesn't think it was.
14.56  PB asking KD about Maxine offering to go and check on LB; she says she carried out the check, inconsistency in the statements.  KD says 'no, she didn't do the check, she might have gone in that direction, but I did the check'.
14.58  PB asks KD about the 999 call recording we heard yesterday where Lenka M states 'we don't know how long he's been in the bath'.  PB: I'm going to put it to Mr Dullaghan that he didn't carry out the check at 9 o'clock; KD replies 'No, I carried out the check'.
15.01  PB puts an extract of Cheryl Sindayen's statement to KD 'Kieran told me I did not have to stay with Connor all the time he was in the bath'.  Cheryl was a student nurse on STATT under KD's supervision. Is there any part of that statement to which you disagree? KD: Most of it.  KD had conversations with CS about how she was spending her time on the unit; concerns raised over what she was speaking to patients about.  KD explained to CS he 'felt it was really great that she spent time with the guys [pts] and got to know them but she should also be spending…equal amounts of time in the office' <<< Advice to a student learning disability nurse.
15.05  Now Dr Murphy's counsel asking questions of KD.  Asking why handover was only 15 min long between shifts.  KD replies was changed few years ago.  'You might have to catch up yourself on Rio'.  KD says he didnt feel handover time was long enough.   Alan Jenkins asked KD if he felt they had a full complement of staff on STATT, he replies 'No', 'wasn't ideal' general staffing levels.  KD says they had a lot of agency staff and that was difficult; AJ asks if it created difficulties in providing care, KD says yes.
15.07  AJ asking KD if there were other patients who needed more attention than LB; yes, one pt who'd spend hours shouting and screaming.  AJ asks KD if staff were concerned about dignity and privacy and did it extend to ppl using bathrooms?  KD replies yes to both.
15.09  AJ asks KD if they were worried about their working future on STATT; KD can't recall at that time.  KD confirms care plans were a nursing function.  AJ asking KD to describe team meetings that were held on Mondays; confirms he didnt work Mon
15.12  Was there a difference of view (between nursing staff and family members) about Connor being encouraged to participate in some activities?  KD says he got the impression from CTM notes that there were differences of view between nursing staff and 'the mother' (AJ's words).
15.15  AJ asks KD to confirm (again) having spoken to various people (inc Dr Murphy) that tongue biting was not a seizure.
15.16  AJ asks KD whether an OT would be involved in risk assessment for bathing, KD says he's unclear if it would.
15.17  Roddy James for Ben Morris now asking KD questions; idea for two named nurses was reduce risk; wouldn't have interaction w pts if on nights?  KD confirms he believes that was the theory: to ensure patients had interactions w named nurse even if one was on nights/leave.
15.19  We're hearing from RJ that Ben Morris had to work across two units (as unit manager), asks KD was this a concern? KD confirms it was.
15.21  Adam Samuel counsel for Jonny Cowee asking KD if he was aware of the initial assessment by Dr Johnson on 19/3 conducted when LB was admitted.   KD confirms assessment was conducted on day LB was admitted and believed Dr Johnson was a psychiatrist.
15.23  Initial assessment made by community psychiatrist prior to admission includes epilepsy 'suffers multiple types of attacks GTC and absences'.  'It was quite confusing at that time as to how we shd enter information, 1st no risk matrix anywhere, then on care plan, then risk summary'.  'When we stopped using paper, risk assessments wld be part of care plan…can't recall if that was an instruction, but was only option had'.
15.26  AS now refers to printing of the Rio electronic back end; asks KD about observations, he says 'they were set by Connor's admitting nurse'.
15.27  Observations policy from @Southern_NHSFT being discussed; KD responds that lowering observations cld not be done by nurses, raising could.  'Decisions about observations should be made jointly by medical/nursing staff/MHP staff' 5.2.2 of @Southern_NHSFT observation policy.
15.32  AS asks KD if bathroom checks remained the same after observations changed. If on 10 min obs, 15 min bath checks are meaningless?  KD: When ppl were in the bath we 'wouldn't wholly follow the observation policy' and 'it might be the same if they were in their bedroom'.  KD: 'It would be recorded where the patient was' and if they were known to be in their bedroom, we'd knock and if they responded that was OK'.
15.36  AS discussing staffing levels with KD: 'We tended to hand Health Action Plans over to the more junior members of staff'.
***
15.49  Sorry everyone; had a short break, back in court now.
15.53  Stats for @LBinquest 9 Jurors, 16 Witnesses and 8 Interested Persons / Legal Teams.
15.55  Now hearing from Malcolm Fortune, counsel for Winnie Betsva. Asking KD whether Rio was in place when @Southern_NHSFT took over Ridgeway.  MF asks KD about Rio competence, he replies: 'As far as I'm concerned we've always been, and still are in the learning phase of Rio'.
15.58  MF directs KD to LB's medical records; updated by KD on 23/5 while on nights.  Physical health history box incl statements about tongue biting incident 'Mum said these were definite signs related to his seizure activity'.  MF pointing out times which records were updated on 24 May at 02:51, 02:54; Date of assessment timed at 02:56; update signed by KD 03:07.
16.02  MF cross references Rio entries 03:33 where added reference to Risperidone; lots of A3 paper shuffling going on here as people try to keep up.   MF asking KD to confirm the entries he made on Rio were made by him; LB's risk summary document 'time risk assessment taken' at 03:15.  Reference in Risk Summary to Winnie Betsva as 'other persons contributing to this section' at no time.  Record says 'since admission 1 possibility that Connor accidentally bit his tongue when he was frustrated', KD concedes he must have added.  Risk Overview record updated 24 May 03:15 says Winnie Betsva but according to rota WB not working, KD concedes he'd have made that entry.
16.08  MF suggests to KD that Rio was used for named nurses to familiarise themselves/update with developments since last on shift.  MF: Regular multidisciplinary team meetings held on a Monday; as a result of 3 June mtg obs reduced to hourly, clear in obs records: Yes.
16.12  KD takes opportunity to make clear that in addition to himself and Winnie Betsva being named nurses for LB, they also cared for 3 other pts.
16.13  Now @Southern_NHSFT legal counsel have chance to ask KD questions.
16.15  Question to KD about day LB died @Southern_NHSFT read his statement to him; repeats that saw LB in bath washing his hair.  Statement says he doesn't recall signing the observation record; KD asked to explain where the clock was in the office.  KD says 'it was around 9 I went to check him, I've said different things in different statements, I'm not quite sure'.  Transcript says 'Then I was looking at the clock and Maxine went to check him at about 09:15' do you agree 'yes'.
16.18  KD asked about shift patterns, used to do 7.5 hours but now short shifts (6 and quarter hours) or long shifts (12.5 hours) #JusticeforLB.
16.21  Back to 24 May Risk Overview document updated at 03:15, can I confirm this was last time you looked at the section before they were printed?  KD confused by what Rio timings mean; FP suggests 'all this shows is you closed Rio at 03:15 on 24/5 and s/one else cld have completed it?'  Lots of confusion about what is recorded on Rio, where, and what is saved/recorded on the front and back end.  FP @Southern_NHSFT counsel asks KD does he recognise the entry as having been added by him?  KD replies 'I'm not sure, possibly some of it'
16.26  Coroner asks KD if it's routine for him to be updating records on a night shift?  He replies it is.
16.28  FP shares another risk record updated by KD on 24/4 at 17:55; summary risks.   'It's probably not the sort of summary that should be in there'.  When asked why he says 'it's not very good'.  Record relates to self-harm and harm to others; FP asks cld he have mentioned epilepsy.  KD: I wouldn't disagree with you but generally speaking it's not something we'd generally deal with, it's linked to OTs [accidents section].  Box refers to accidents and falls and accidental harm outside of home eg wandering; previous questions relate to self-harm / harm to others.
16.35.  Now moving onto Michael Walsh, KD's own legal counsel, asking him questions. He (KD) has been giving evidence all day.  MW asks KD if he can recall whether there was consensus with LB's family about seizure activity? KD says no.
16.37  Record pulled up.  States 'his Mum said these were definite signs of seizure activity'. MW replies 'the family don't know'.
16.39  MW asks KD if he was able to see who entered what on Rio without doing the tracing exercise described by IT at the start of the afternoon.  He responds no, not possible to know who had written what and when on Rio.
16.41  MW: How long had you been implementing dual named nurses? KD: About a year or so by then, not entirely sure.
16.42  MW: Did you attend CTM? KD: Not for Connor, I attended very occasionally.  MW: Wld Rio records be looked at in CTMs?  KD: I don't recall that.  MW: There were 13 CTMs between LB's admission and death, were you aware that bath checks were inappropriate from the CTM?  KD: No.  Paper risk assessments would have gone over to CTM and been signed off; not aware Rio records were looked at at CTM, were no paper records.  KD says he cant be 100% sure when they were or weren't using paper; some Rio records would have been printed out for a file.
16.47  KD asked about OT involvement: Tended to get involved in bathtimes in general, more around risk assessments and falls and stuff.
16.48  MW: Disregarding bath checks, before 4 June were 10 min checks; following 3/6 CTM back to hourly obs and 15 min bath checks? KD: Yes.  KD makes clear he wasn't involved in either of the decisions around frequency of observations.
16.49  MW asks KD how he was assessed or managed. KD: 'Line manager was Jonny Cowee and wld have supervision monthly to 6 wkly, that was the plan'.  MW: In practice how did that work out?  KD: Not very well.  MW asks KD how much supervision he got in the year before Connor's admission.  KD states he had one managerial supervision and one clinical supervision in the year before [I think, need to check this].  We used to have clinical supervision reasonably regularly where we'd look at care plans and risk assess w supervisor and go through your work.  KD: 'Previous supervision to the one he had in Jan 2013 was 9months prior'.
16.53  AS (Johnny Cowee's brief) interjects and quotes from transcript, puts it to KD he had 'ad hoc supervision', frequent informal supervision?  KD replies that they always discussed service users.
16.55  Jury question to KD: Do you recall when you checked on LB on the day he died, was the door locked? 'It probably wasn't, couldn't be 100% sure'.
16.56  Jury dismissed for the day, we'll be back at 10am tomorrow.