With ineffable sadness for Dr. Ryan and all of Connor's family.
Thanks to George Julian for live-tweeting,
with her trademark precision and concision,
on the @LBInquest timeline.

***
10.30  We were due to start at 10am but no jury yet.  More waiting.  We'll tweet again once the jury return #JusticeforLB.
10.49 (from @GeorgeJulian) An awful lot of 'my learned friends' being bandied about Oxford Coroners Court this am.  Jury still not in, excruciating wait #JusticeforLB.
11.02 Jury now arriving in court for Day 2 of LB's (Connor Sparrowhawk's) inquest at Oxford Coroners Court http://www.inquest.org.uk/media/pr/inquest-into-the-death-of-18-year-old-connor-sparrowhawk-begins-on-monday-5 … #JusticeforLB.
11.03  Before witnesses are called Coroner is reading some background information to the jury about Rio the @Southern_NHSFT computer record system.  Statement from Open Rio Electronic Patient Record Lead at @Southern_NHSFT to explain electronic patient records.  There are number of functions of Rio that are only available to the back-end users (@Southern_NHSFT IT staff).  LB had an electronic patient record on Rio and a secondary paper record @Southern_NHSFT.  Staff manually input data into Rio (type text), live entries are interactive and continually updated eg care plans and risk assessments.  Rio automatically holds an audit of all edits to the system, who edited and when. Care plans are live documents on Rio.
11.06 Coroner now reads statement from IT Manager @Southern_NHSFT.   Statement confirms that the medical records made available are taken from Rio records at @Southern_NHSFT.  Outlines functions of Rio. Rio allows record of daily interactions and creation of other documents inc care plans and risk assessments.  These are live documents and when a member of staff logs in they are able to view all historic documents and live copies.  When staff click into document they are shown most recent version; if they make any edits they are stored and next person accesses that.
11.09  Kieran Dullaghan, Staff Nurse on STATT and one of LB's two Named Nurses now sworn in as a witness #JusticeforLB.  Coroner asks KD if he has read his statement recently, confirms that he has and is his signature on it. Confirms is true and no amendments.
11.10  In July 2013 KD was a registered learning disability nurse at STATT. Had been for approximately 5 years #JusticeforLB.  Had been employed at STATT for five years, previously seconded from Evenlode @Southern_NHSFT.  KD worked in learning disability now for about 15 years.
11.12  Coroner asks KD to confirm who was on shift the day LB died. KD, Elizabeth G, Lenka Mullerova and Maxine Hemmings. Started work at 07:30am.  Coroner asks what time he'd have finished that day. KD can't recall but says if on early wld work until 13:45, if on late wld be till 20:45.
11.13  KD confirms that he had been one of LB's two named nurses since his admission to STATT. Second was Winnie Betsva.  Coroner asks KD describe what being named nurse means. Says 'you'd do the bulk of the paperwork for the individual and oversee their care'.  Coroner asks if all other patients would have named nurses 'yes' and why two? KD: That was the way we worked at that time.  Was a relatively new manager and one charge nurse at the time and they decided a person should have two named nurses #JusticeforLB.
11.17  Coroner states 'it's not as tho you had a lot of patients, there were only 5 at the time' KD agrees, says at some times was up to 7 patients.  Coroner asks KD how well he feels he knew LB. KD 'my goal is to develop a therapeutic relationship with any patient I'm a named nurse for'.  KD says he found LB 'not the easiest person to form a relationship with….but I like working w ppl w autism, I find them interesting'.
11.18 KD describes how he tried to build a relationship w LB, brought in a map of Ireland, spent time with him but then he went off on leave.   When returned, LB was moved upstairs and 'unfortunately you didn't see as much as him when he was upstairs', but tried to build relationship.
11.20  Coroner now reads KD his statement made about what happened on 4 July 2013 #JusticeforLB.
11.21  KD describes checking LB at 08:55, LB didn't acknowledge him (fairly normal) but his head was above water.  KD states he was made aware at 09:15 by MH that LB was submerged in the bath. Coroner asks how he knows he checked at 08:55.  KD confirms it was an 'estimation' and that there were various clocks around the unit.  Asked how knew was 09:15 when MH called him, he was on the computer at the time.  KD opened the door at 08:55, popped his head in (worried about privacy) to check on LB and he had suds in his hair, he didnt say anything.
11.25 Coroner asks KD if LB acknowledged him at 08:55, he thinks he did make eye contact, his head may have already been turned, can't remember.  Coroner confirms with KD that he left the room at 08:55 and asks him what he then did. KD went straight back to office after checking on LB.  Short distance away, over the corridor and was on the computer then doing admission notes for a new admission.
11.28  Coroner asks KD about levels of observation on STATT. General obs hourly, Level 2 intermittent, 10, 15, 20mins. Level 3 in sight/sound.  'There's been quite a lot of confusion around about this' [observations] 'this whole thing about Rio…we only had access to front end'.  There was 'huge confusion over 15 mins checks, they seem to be associated with checks about epilepsy' No way of checking that on Rio.
11.30  Coroner asks was anything else in relation to LB's epilepsy and bathing in relation to obs? 'Huge confusion over where this came from'.  All this time he'd been thinking Winnie Betsva put 15mins obs on LB's care plan, but it 'turns out' KD had put on care plan on 20/3.  15min observations/checks as I should call them were put on care plan by KD but 'had belief someone else had done it'.
11.33  KD says re care plan 'The sentence is written after the sentence saying he can sometimes have a bath of up to 3hrs'.  KD 'I remember asking Mum if that [3hr baths] was normal and she confirmed it was'. KD says bath was sometimes over full and getting cold.  KD sharing that while LB was on 10min obs he would sometimes have 3hr baths and due to dignity if got response when knocked wouldn't check.  KD added in15 mins checks and he now describes as a 'guideline for staff'.
11.35  Coroner asks KD about his knowledge of his epilepsy and how it featured in his care planning.  KD replies 'anything related to his epilepsy would be on his epilepsy care plan, what I was doing was a personal care plan'.  Coroner asks KD if he'd had any training in epilepsy 'I'd had a lecture on it when I was training to be a nurse' and …'a one hour electronic training session' that I did in about Feb 2013 #JusticeforLB.
11.38  KD confirms to Coroner he has nothing more to add; questioning moves to Paul Bowen.  Paul tells KD he'll be ask about care plans/ risk assessment, observations, events on 4 July, communication w family + questions about unit.
11.40  KD confirms to PB that he created a personal care plan on 24 March following LB's admission.  PB asks KD who would be responsible for writing an epilepsy care plan. He believes Winnie Betsva would have done LB's epilepsy care plan.
11.42   Slight delay as photocopies of the care plan in question are shared with members of the jury and legal teams.
11.45  PB introduces document, a schedule created by IT of the entries made to LB's care plan, taken from the Rio records.  First entry 24/3 in relation to epilepsy care plan 'LB needs to be observed at regular intervals of 10mins due to tonic clonic seizures'.  Can see Winnie Betsva made the entry; in next column can see 'care plan interventions' entered on 24/3.  2 pages on, date in last 4 columns relate to date last entry made and can see date amendments made.  Data Field 1 date care plan was last updated, next column field 2 date to be reviewed (KD confirms) and last column when entered onto Rio.  PB directs to entry 'that couldn't remember where 15mins was introduced' KD 'it's not that I couldn't remember but that it's been clouded'.
11.51  PB reads entry relating to LB's bathing habits: 'staff should let Connor spend as much time in the bath as he requires' #JusticeforLB.  KD says he was concerned that LB would flood the bathroom or get cold given how long he would spend in the bath.
11.54  Coroners Officer projects document for jurors onto screen 'Care Plan Review', this doct shows what wld see if printed care plan off Rio.  First one of these that appears in LB's notes is printed on 30 April. PB compares this printed record to the Rio record.  Goal: Connor to maintain his current standard of self care; Connor to continue to use bath time as a therapeutic [activity].  PB comparing scheduled from Rio with the paper printed medical record just projected to the jury. Another entry added the same day.  Updated care plan says 'Connor has stated he likes spending a long time in the bath as he likes it. He does not mind if staff check on him'.  Printed Rio paper records only show most recent info, need to go into electronic to see when changed or edited or added to.
12.03  PB talks through further entries made as seen on the printed Rio schedule produced for the court by the @Southern_NHSFT IT department.  PB confirms w KD he wasn't at care planning mtg on 3 June, he doesn't work Mondays. Decision made there to reduce obs from 10mins to hourly.  KD confirms 'yes' to PB that these observations were relevant to how long LB spent in the bath, not related to his epilepsy.
12.08  PB talks thru another entry on schedule 'Connor suffers from tonic clonic seizures therefore staff need to observe C at regular intervals'.
12.09  PB checks what hospital the consultant neurologist was at, JH and JR used. Was John Radcliffe, JH is a typo.  LB under the care of Jane Adcock, a specialist neurologist in epilepsy at John Radcliffe Hospital.
12.11  Printed care record, goals: To observe and record any seizure activity on Rio and to manage C's epilepsy in a safe and therapeutic way… so as to minimise disruptions to his activities of daily living. <<< Reference made to NICE Guidelines 2010 in this record.
12.13  PB asks KD if there would have been discussion between two named nurses about care planning; may have discussed it.  In relation to this aspect of LB's care, PB puts to KD that doesn't say anything about bathing arrangements in this element of his care plan.  PB to KD: Did you at any stage carry out an assessment of Connor's physical health needs that assessed his epilepsy and risk around bathing?  KD's legal counsel interjects that KD has been given legal advice in relation to Rule 22 [incriminating yourself] and advises not to answer.
12.17  Court breaks, jury dismissed, we're off out to discuss that development.
12.24  Rule 22 #JusticeforLB: No witness at an inquest is obliged to answer any question tending to incriminate him or her.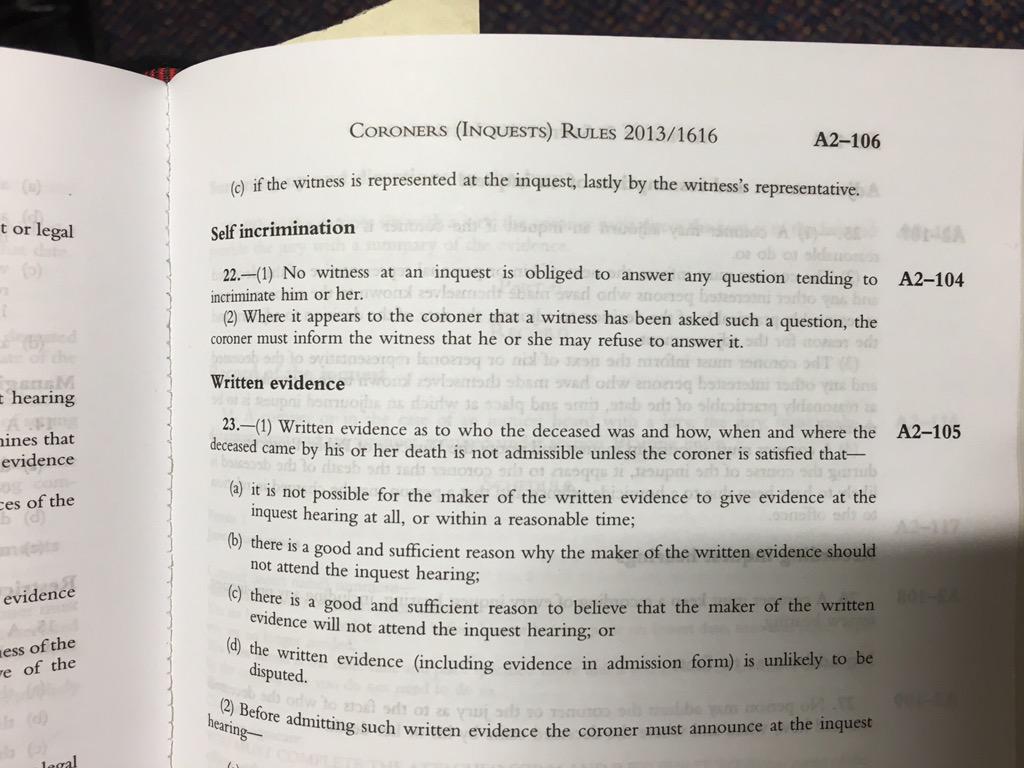 ***
12.45  Jury return, PB asks question again, Coroner interjects and asks him to move to next question.
12.48  PB gets KD to confirm 24/3 entries onto Rio were made by Winnie B 'yes', 28/4 entry by KD. Asks KD whether that was in relation to epilepsy?  KD replies 'I was reviewing the care plan'.  PB asks whether was reviewing to determine whether sufficient protection…was given in the care plan in relation to Connor's epilepsy care? KD's legal counsel interjects again and advises not to answer.
12.51  PB refers to another entry on Rio on 24/5 made by KD.  Agrees he made it at 03:33.  PB asks whether reviewing care plan to determine whether sufficient protection was given to Connor's epilepsy in the care plan?  KD's legal counsel interjects again and tells him not to answer.
12.51 Coroner says that he will address the jury about this approach after lunch.
12.52  KD shown hard copy of printed risk assessment from 24 April; asks if he is familiar with it? 'Yes'; signed by him? 'Yes'.  Explain it please.  KD: 'This is our risk summary on Rio, it has a number of different headings, harm to self and others'.  PB asks if addresses risk in relation to epilepsy?  KD 'this is one of the problems with Rio, there is no box for physical health'.
12.55  KD says Rio @Southern_NHSFT is a complicated system that he's still getting used to using.  Were told had to put risk matrix onto care plans.  When we used to be on paper we had risk assessments on paper <- KD describing @Southern_NHSFT recording systems.  'We did go through a period where risk matrix was neither on care plan or risk summary' KD 'we hadn't got to grips with Rio' #JusticeforLB.
12.58  PB suggests epilepsy risk could have been addressed in accidents, KD says no, had to tick box to get chance to fill in and no boxes applied.
13.01  PB now comparing risk assessments and risk summary with KD. Much confusion about medical records and whether same/different documents.
13.03  Court breaks for lunch, Kieran Dullaghan will return after lunch for more questioning #JusticeforLB.